18k gold internal attachment with pink sapphire and diamonds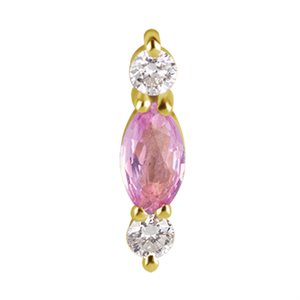 Double-tap and hold to zoom.
Mouse over the image to zoom.
18k gold internal attachment with pink sapphire and diamonds
Introducing a high-quality and luxurious 18k gold internal attachment with a centered genuine pink sapphire and two created lab diamond precious stones. Crafted using only 18k solid gold, this exquisite accessory is perfect for any internally threaded base such as a labret, tragus or helix barbell. The decoration of the genuine pink sapphire and brilliant created diamonds add a refined, sophisticated and polished touch that will make heads turn. This item is suitable for any occasion – from casual outings to more formal events – and will make you feel luxurious and glamorous. Whether you're shopping for a special present for someone you love or an indulgent treat for yourself, you can be sure to have a timeless accessory with this 18K gold internal attachment.
CAD $218.05
Retail price: CAD $218.05
Main material :

18 karat gold

Secondary material :

None

Classification :

Parts

PVD Coating :

None

Gem type :

Genuine Sapphire and Created Diamond

Threading :

Internal
What is internally threaded body jewelry technology ?
Explore the world of threaded jewelry, a captivating type of body adornment where the ends gracefully unscrew. Appreciate its versatility and convenience, as it can be effortlessly removed and changed. Perfectly suited for those seeking a sturdy and substantial aesthetic, threaded jewelry triumphs over its non-threaded counterparts. Embrace the ease and independence of threaded posts and rings, offering a seamless experience without the need for a piercer's assistance.
Discover the extraordinary variations of threaded body jewelry: the refined elegance of internally threaded.
Internally threaded treasures boast screw threads attached to the ball, enabling a silky smooth insertion into your piercing. This exquisite type of threading is highly recommended by the esteemed Association of Professional Piercers, who hold it to their exacting Minimum Standards for Jewelry for Initial Piercings.
Discover the allure of gold, a truly precious metal of unparalleled beauty.
For initial piercings, only the finest gold will do – 18k. Anything higher is simply too delicate for body jewelry, susceptible to unsightly scratches.
Explore the world of gold with our exquisite alloys. G18K, or 18 karat (750 Gold) Yellow Gold, radiates warmth and elegance. Indulge in the luxurious charms of RG18K, or 18 karat (750 Gold) Rose Gold, exuding a delicate allure. For a touch of sophistication, WG18K – 18 karat (750 Gold) White Gold, adorned with a dazzling Rhodium Plating, is an enchanting choice.
Delve into the details with our comprehensive Alloy Data Sheets. Curious about the nickel release test for White Gold? We have all the answers you seek.
Our commitment to excellence extends to marking all of our Real Gold items. Look for the unmistakable stamps of authenticity – 750 for 18 karat and 585 for 14 karat. Rest assured, our Swiss Responsibility Mark («Verantwortlichkeitsmarke») guarantees the purity of our gold products.
Embrace the essence of opulence with our exceptional gold offerings.
Our Nickel release certificates are free and available anytime here.
For more information about our products, visit our information center
You May Also Be Interested In